LongDD to settle down with LGD.cn
on
LongDD to settle down with LGD.cn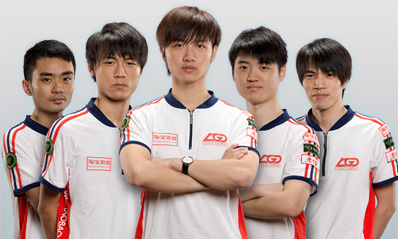 LGD.cn at The International 2 (from left to right: xiao8, Sylar, Yao, DD/Sc, ddc). Photo by Valve
After qualifying for the G-1 Champions League LAN Finals recently with Huang "LongDD" Xiang replacing Xie "Sc/DD" Bin, who has been absent from the team since last month, in the lineup.
LGD.cn officially announced that LongDD will settle down as a permanent member of the team while DD will be taking on a supporting role in the team, outside of the game, as well as take on a new career path as a caster. Prior to joining
LGD.cn, LongDD was a well known member of
DK and took part in The International 2 and had a short stint with
TongFu, which did not work out for the Chinese veteran.
LGD-Gaming also announced that they have also expanded their media department with the appointment of Sun "Kent" Gege as the team's official caster as well as Helen "XiiTuzi" Xu as their media manager.
LGD.cn is looking forward to competing in the upcoming G-1 Champions League LAN finals along with
iG,
Orange.NeoEs and
DK.
Source:
LGD.cn Facebook
Interested to be a writer for RGN? Drop us an and include sample articles and we will get in touch with you.
For more information and updates, please follow us at
rapturegaming.net
www.facebook.com/rapturegaming
www.twitch.tv/rapturegaming
www.youtube.com/rapturegaming